Dec
02
Research 2.0
The artefact me and my partner chose was a set of dot matrix prints, represented by abstract geometric shapes, printed on traditional dot matrix printing paper not often seen today. It was upon closer observation of this paper that we found the collection of dot matrix prints belonged to 3 different designers.The designers were Ronald Reidenburg, Tom Reidenburg and Katherine Nash who were key figures in computer art and artist programmers.
The majority of the prints came from the Artist Katherine Nash, an artist who believed that as technology was advancing we as artists needed to adapt to become part of it.
Katherine Nash Published a book called Computer Programming Art 1, detailing her design principles.
Katherine Nash theorised that professionalism while efficient would restrain artists ability to adapt to advancing technology. She also theorised that Design approaches that involved Participation would lead to more possibilities. Following the principle that people in society with a lack of knowledge in the design field would lead to more open-minded design approaches.
Katherine Nash and Richard H William also theorised that there were 3 key design approaches that artist could take towards computer art.
The artist can learn computer language to create their own code for their design (long and frustrating path)
The artist may collaborate with an expert in the field to create computer art (often leading to a loss in design freedom and control of the design approach)
The artist can make use of computer software that uses premade codes, allowing the artist to apply their use of computer language according to their design field, without the
Katherine Nash followed her design theories and in the process found that the 3rd principle was the most effective method for adapting to technology to create Computer art.
We believe that this is because interactive designers from different fields can use the 3rd principal without advanced knowledge of computer art, to apply their expertise to and create open minded design approached without the need of an expert.
The collection had artists that followed similar design approaches.
Upon further observation we found that the prints carried the same name of university and computer centre with dates that were very close to each other.
This speculative design research method helped form a connection between these designers that sets the prints as a collection, from this we can speculate that they were artists who followed a similar design approach to Katherine Nash.
The more we analysed the design work and her method to apply her expertise in abstract art (computer guess) through the use of premade code, the more we were inspired by her approach to adapt to the rise of technology.
Katherine Nashes design approach was followed by a series of analogue prints that demonstrated how the different premade codes code be used.
We were inspired to create a narrative that would allow the audience to experience and become apart of her principle for design.
Through researching into design we analysed her work and theorised a design approach, which would use more advanced processing software that would recreate dot matrix designs. Allowing an audience with little understanding in computer art, to produce their own version of dot matrix print through similar technology from that time.
Following the path of research through design, we made use of our introduction into Max and processing to identify similar premade codes that had a similar effect to the ART 1 software that converted imaged to dot matrix.
We followed a path of experimental design approaches based on Katherine Nashes principles using the technology of the time.
We believed that our design approach should use the technology of the time to reconnect the audience with computer art from the distant past.
We found that we would be able to record the sound and visuals of the interaction and have it sent to the printer. This could be done by processing that recoded sound waves and sent this as an image to the printer. This process however would fail to maintain interaction due to the slow pace of dot matrix print.
To refine this process we looked into ways that the printer could be programmed using arduino, by have a direct signal sent to the printing mechanism allowing the printer to immediately print what is sent without delay. This process proved difficult due to the issues in sending signals between the devices.
Through the prototyping process of using the printer and software, we found the fascination and engagement the user experienced simply by using printer. Inspiring us to look into ways that the printer could be used as an interface for accessing and communicating computer art through the mystery of a foreign technology.
We researched for similar designers who used objects as means of communicating with the audience through a unique narrative as an idea of similar design approaches.
Designer Usman Haque spoke to us personally about the idea of giving the audience control of the object will keep them engaged to learn more.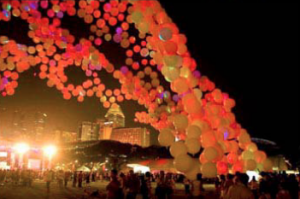 Designer Cecilia created a narrative where the audience engaged with familiar objects to find their meaning, an idea we found similar to the way the audience would engage with a dot matrix printer that is unfamiliar to find meaning.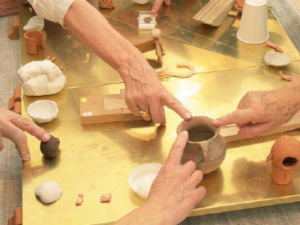 This lead us to research into designs such as the Space Odyssey introduction, where a group of apes are fascinated by this mysterious object an engage with it physically to learn.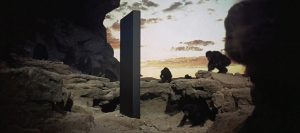 This idea of creating mystery, inspired us to look into the story computer art and speculative design research we had built up in the process of researching into the computer art archive.
We used contextual surveying to monitor how the audience may interactive engage with the environment around the dot matrix printer, and how they would interact with the technology. We did this my monitoring theory use of space and engage with operating the printer.

Using the information gained through contextual surveillance, we researched through design to create a prototype of the space that could be used , methods of operating the printer through projection and how the user could control a video to generate dot matrix designs by using the printer as an interface.