Artefact Interaction Survey
The Interactive Dot matrix printer acts as an artefact created to function as a interface for communication between artists of the past and audiences of the present. The artefact allows the audience to experience the same mystery and curiosity that the artist Katherine Nash had when adapting to computer art.
Influence
The creation of this artefact was driven by my research and exploration into the dot matrix printer that the artists used. The mystery and curiosity I felt when trying to find, understand and function the printer, helped me understand that this was similar to what the artists of that time.
Interaction process
This is a set up that turns a printer into a video player, using sensors connected to video files, which generates a dot matrix projected print.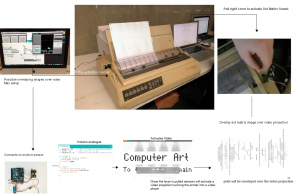 Click image to enlarge
Main video projection
The artefact (printer) acts as an interface where video projections are triggered by what interactions you have with the artefact (printer), such as pressing buttons, twisting knobs and pulling levers.
Lever activated second video
Once a lever is pulled a second projection is displayed that demonstrates distorted clips of how the artists used the printer to create their computer art.