Jun
14
Uncovering the Treasure of Garbage City
Speculating the local impact begins with a villager seeking water would come across the bottle unearthed. Once the locals reported what they found, a national impact would lead to more direct excavations, which would take place by digging alongside the water well. Excavations would unearth small artefacts of unnatural materials (plastic) and strange substances (crystalized Coca Cola), Leading to a global impact where excavations expand in search of the strange substance seen as minerals and the objects create by them are seen by archaeologists as artefacts known for their unique functions ). The visual expressions of these speculations take the form of recreated excavation site, a speculated archaeology book and a video acting out the events speculated through the project.
The excavation site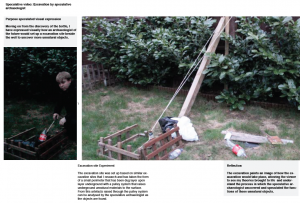 (Click image to see more)
The speculative archeologists book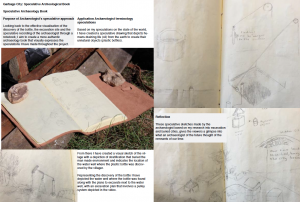 (Click image to see more)
The Treasure of garbage city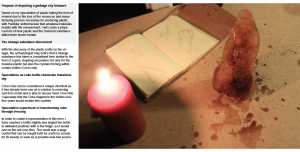 (Click image to see more)
The speculative Video on "Uncovering the Treasure of Garbage City"
Video gives recollection of speculative archaeological discovery, based on speculative archaeology book and the effects of anthropocene speculated through the project, influenced by the Gods must be crazy video. The video begins with the tale of the past way of life and progresses to tell of the loss of oil and how the world changed. The video goes on to talk about the world state changing and how a village 1000 years later came across a plastic bottle that sparks the begginging of excavations that shows value in what we consider garbage.
The interactive book system
Arduino Set up
(Click image to see more)
Interaction with Book and mysterious object
Sound narration triggered
 Speculative Archeologist Narration
Part 1
Tales tell of a time when humanity drained life from
the earth
Part 2
to fuel their world in a land that was cold and lifeless
Part 3
Where they used the worlds life to craft great towers
and objects, out of place in nature.
Part 4
Until their fuel ran out and they could build no more
Part 5
As a 1000 years passed The land rose and layer
upon layer buried the old world
Part 6
Year 3016, Humanity has learned to sustain themselves
through working with nature.
Part 7
Until a villager fetching water came across a mysterious
object, filled with a strange substance.
The object was firm transparent was not of nature
Curious of the object the villager tells the others
Part 8
It was then that I sought the village of humble nature,
Part 9
Day 1 began plans to excavation deeper beside the
well