Purpose of pet survey
Research into the reassured map object have demonstrated it to be unresponsive, therefore I will explore what dog tribe member are drawn to. I will then look into applying thoughs traits into a social thing that member of the tribe can engage with while having the opportunity to use their observational skills to explore.
Collaborative project with member of pet owner tribe Influence 
Shane Smidt Collaberative Project (link to PDF)
Survey Analysis (click on image)
This survey was conducted to identify what behaviour and traits draw people of the tribe towards dogs.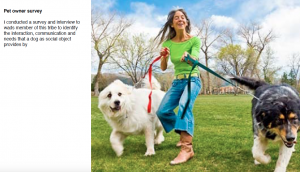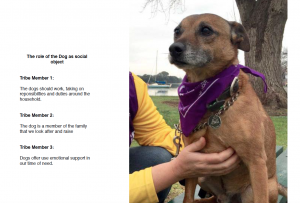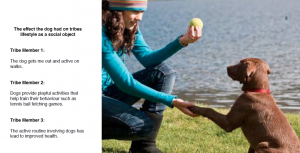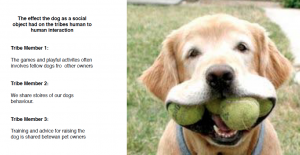 Interview with members of the tribe (Click to hear interview)
Interview with tribe member 1
Interview with tribe member 2
Summary of controversial points that spark conversations
Raising Dogs: The interaction of raising, and training the dog enagages members of the tribe and leads them to seek advice.
Active routine: The active routine of walking and playing with the dog gets the tribe member out of the house and even leads to shared activities with other dogs.
Memorable behaviour: The dog has random momnets of behaviour that creates stories shared betwean members of the tribe.
Reflection
While there are a variety of traits that members of this tribe are drawn to, I was particularly interested by their response that dog behaviour are memorable and appear alive, unlike the cold statistical responses of technology. I will move forward finding ways to adapt these traits to technology so that they may more actively engage with the social thing.